An introduction to 3D printing in watchmaking
Due to my fascination with watchmaking I am always interested in new methods of manufacture. Whilst designing a watch I was making for myself, I came up with a plan for a custom dial surround. The part needed to be exactly sized with precise hour markers which would be awkward to manufacture with precision using a watchmakers' lathe. During a chance conversation with a friend, 3D printing was suggested as a possible solution. Apart from achieving the desired watch part, this would also make a fascinating research project where I could really look at the potential for 3D printing in bespoke watchmaking.
I was put in contact with the very talented 3D printing team at Cardiff University and its PARC research centre who successfully and accurately produced the required dial surround to my exact specifications. You can view the Cardiff University press release here.

The photo on the left is the 'before' shot. The central image is the watch with 3D printed plastic prototype installed to ensure that the dimensions are correct and the image on the right is the dial surround now printed in 316L steel.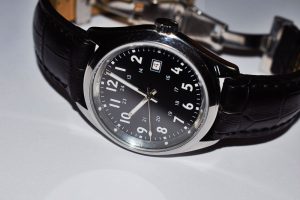 The (almost) finished article. A bit of post processing later to achieve a polished finish followed by the addition of some luminous compound and the concept is realised. It still requires more polishing and the luminous compound will need re-applying properly which I will complete once the bespoke dial is made and fitted.
We're proud to say that this project was presented at the G7 summit in La Malbaie, Quebec, Canada and the Ipsera Conference in Athens in 2018 as an example of 3D printing technology and its potential for use in Product Life Cycle Extension and the 'circular economy'.
The results of this experiment with 3D printing have been excellent and have set my imagination alight with a plethora of watchmaking ideas. Exciting developments in 3D printing allow for unique parts to be created with bespoke designs that are very difficult to replicate using conventional watchmaking methods. This is just the beginning of our company's study of 3D printed watch parts. Watch this space.
6497 style Pilots' watch project

This watch started as a practice piece and ended up becoming a gift for my father. I'm very happy with the finished product and the quality is superb. This has predominantly been a case refinishing, modifying and dial printing exercise. Next up is movement modification.