Professional Watch Repairs serving Doncaster
With over 25 years experience in watch repairs, Precise Time offer a wide range of specialist watch repair services. We also stock a great range of quality watches from top brands.
Call in for a free estimate from our friendly and knowledgeable staff.
Find us
Batteries and resealing
Almost all quality watches have sealed cases to varying degrees. These seals are there to stop moisture and dust from entering your watch and blocking or rusting your watch's intricate inner workings. At each battery change or movement service we reseal and pressure test your watch to ensure that these important seals remain intact, increasing the durability and accuracy of your timepiece. At Precise Time we have this facility on site and the correct, high quality battery can be fitted and the water resistance of your watch tested on the day, whilst you shop. We offer this facility on virtually every brand of watch including Breitling, TAG Heuer, Omega and Cartier as well as many other prestige timepieces.
Water resistance guide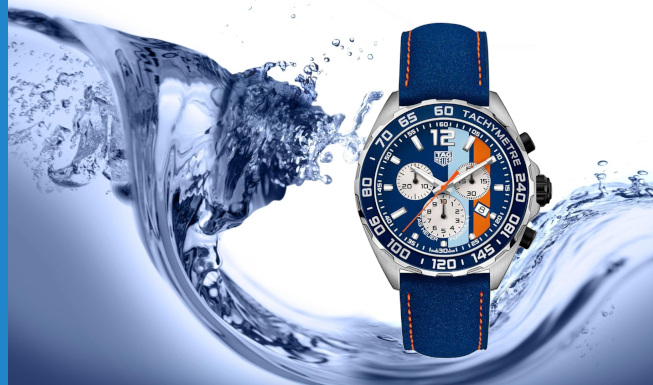 High quality movement servicing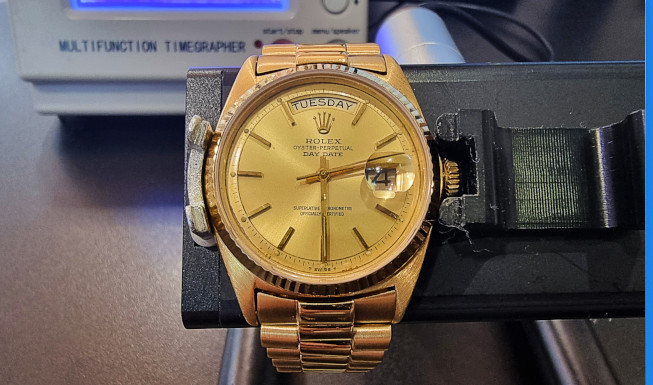 Watch servicing
During the course of its life, your watch makes millions of accurate movements, each one made smooth and precise by the oils that lubricate it. Over time these oils degrade affecting the accuracy and longevity of your timepiece and its parts. Due to the pressure and wear on mechanical watch movement parts they generally require servicing every 3 to 5 years to maintain precise timekeeping. At Precise Time we service virtually all makes of watch, including prestige brands such as Rolex, Breitling, Omega and Tag Heuer using qualified watchmakers with decades of experience. Our watchmakers can also repair and restore many older, now obsolete classic watches. We also offer complete case and bracelet valeting to return your watch to it's original, new looking condition. All our movement services are guaranteed for an industry standard 12 months.
Bracelet repairs and resizing
The correct adjustment of watch bracelets is paramount as the security of the fit ensures that your watch won't fall from your wrist, potentially causing damage to your watch's glass or delicate movement parts. Watch bracelet resizing is carried out proficiently in branch, on the day, to all types of adjustable watch bracelet, including ceramic styles.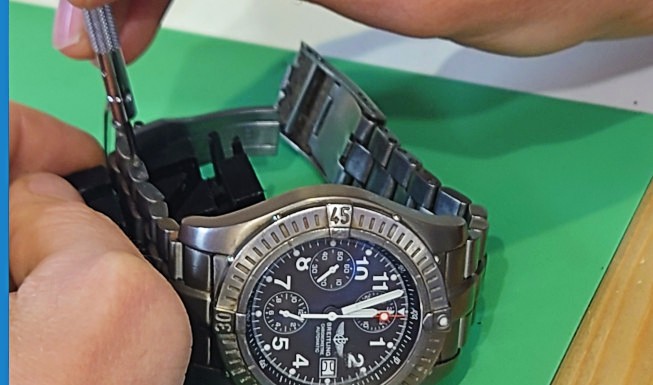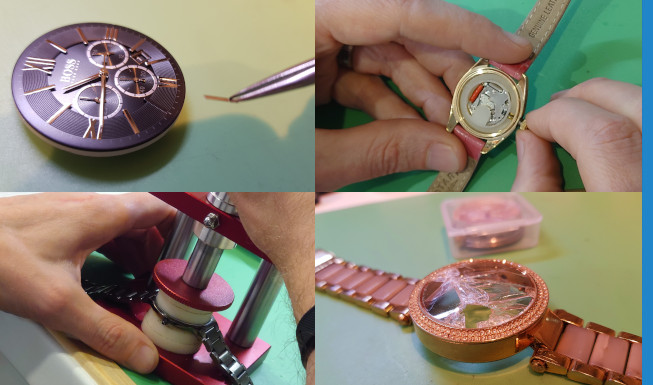 Glasses, clasps and dial repairs
Accidental knocks can damage your watch in many different ways. At Precise Time we repair or replace broken glass, loose hands, bent clasps, broken crowns and snapped bracelets using top quality Swiss made components or original manufacturer parts. We also offer many other types of repair so please come and see us with any enquiries for a free estimate.
Valuations and insurance work
Many insurance companies insist on watches of a higher value being insured separately on your home insurance policy. Where required we can professionally appraise your watch and supply you with a detailed insurance valuation for submission to your insurer to cover the replacement cost of your watch should you need to make a claim. In the event that you need to make an insurance claim for repairs to your watch, Precise Time can directly submit a free, professional estimate to your insurance company, thoroughly detailing the work required and the cost involved in order that you can quickly and easily complete your claim with no fuss.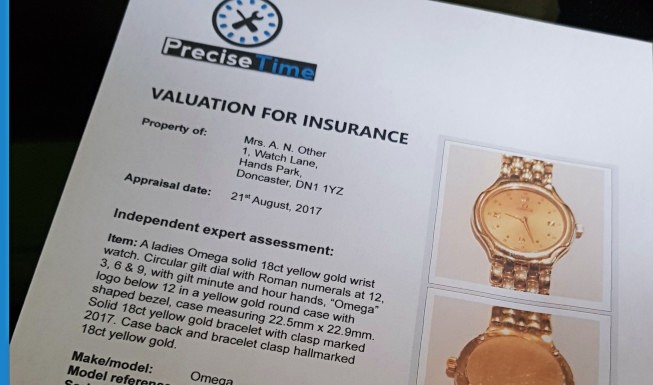 Repairs portfolio
Some examples of the work we carry out at Precise Time
Just a note to thank you very much for the repair to my watch band during yesterday morning (Thurs 7th Dec.).

It looked impossible but you did a great repair and it is all like new!

Many thanks for your help.

Paul Bunn

I called in today with my ceramic bracelet watch. Other repairers told me it was irreparable and to throw it away but I loved it. Precise Time fixed it and for less than £10 in the time it took me to drink a coffee. I am delighted with the service, he even put the pin back into my brand new faulted watch from Goldsmiths at no cost. Polite, friendly and professional service. I will go there again and happily recommend.

N. Gill

Just had my seiko auto klnetic repaired here what a fantastic job my watch is like brand new can't thank you guys enough . I will definitely be bringing my other watches in

Gordon N Angie Watt

We recently brought our watch in to Precise Time for our watch strap removing and re-fitting. It was a tricky job to do but it was undertaken without any issue. The job was done as we waited and the service we received was excellent and very courteous. We were highly impressed and would definitely recommend to anyone. Thanks a lot.

Yvonne Teimoori

My Armani watch clasp was failing, and I had tried various shops to get it fixed, but as it was a ceramic strap they did not have the expertise to fix it or wanted me to replace the complete strap, at a large cost. The helpful guys at precise Time fixed the clasp at a fraction of the cost of a new one, whilst I finished my shopping. Great service, would go back!!

Keith Slack

Always honest and professional. Highly recommended!

John Suciu

Cant thank these guys highly enough. After asking various jewellers and other watch repair shops about repairing and re-plating the case on my late fathers vintage watch they either said can't be done or would be to expensive bit rude as didn't matter to me the cost it being my late fathers. Took it to precise time and after speaking with them for less than 5 min was confident of leaving it with them. Did say could take a few weeks. They rang me through each stage of its repair to the re-plating which was very good and very professional and today I picked up my watch and can only say it works perfect and looks a million dollars cheers guys and enjoy your drink you deserve it 5 star service

Adrian Mosley

Had a couple of my husbands watches repaired here. We found it excellent value for money and the turnaround time was remarkable. Highly recommended.

Pam Chiddey

Great service from trustworthy & professional staff. And with a smile!!

Ivan Lee

Excellent customer service, highly satisfied with our Rolex Service, very reasonably priced A+++

Sheelagh Hoyle

Took my Breitling for a new battery, excellent service and price.

Stephen Welburn Welly

Took my watch in for repair Sunday morning and was finished in 20mins…super service from a really helpful owner.

Max Turne

I cannot thank you enough for fixing my Rolex, she is working a treat!

Sue Dean

Took my tag for battery and reseal excellent service completed in less than 30 mins
Thank you

Dave Slassor

Took my Tag for a new battery and to be re-pressure sealed.
Excellent service and over half the price of sending away to Tag. Highly recommended. Many thanks.

Jim Dooley

Great service…had my watch repaired and serviced after another shop messed it up. Would highly recommend them.

Sharon Pritchard

Popped in here today for some advise on a watch. Very helpful and polite young man. Will be taking all my time pieces here from now on for servicing and repairs. Thankyou

Andy Bell

This place is fantastic took in 2watches one for battery and other for new strap. The chap said he could try and polish the glass and get rid of the scratches ,my watch looks fantastic now very very pleased with the servis .Will certainly recommend this shop to my friends and family

Steve Stock

Been here a few times with my watches and bought in a few family members pieces for repair too, have always received great service all repairs are to the highest standard I have ever experienced before, great communication on cost and estimated time of turn around. Can't recommend highly enough for customer service

NicolaW-133

I visited Precise time a couple of weeks ago, as the battery had run out on my Breitling watch. These watches need to be resealed and in the past I have sent it back to Switzerland to get it done buy Breitling, which is normally quite costly and takes about 2 month to come back. Precise time did the full job in an hour….excellent service and will definately use again.

WayneR-51

Checked with tag heuer about getting my battery done they gave me a crazy price and said it would be 2 weeks. Brought it to here they did the same job all fully resealed and pressure tested same day. Outstanding friendly professional service. They even cleaned the case and bracelet superb highly recommend

PaulJ-842

We had a Rolex Tudor and an Omega cleaned and serviced by Precise Time. They were very competitively priced and the service was outstanding. There were no hidden charges and no delays, the watches were ready when they said they would be ready. They did such a good job we decided to have a strap replaced on a Diesel watch and have a new strap fitted on my partner's watch, plus two new batteries. It's nice to see there are still some independent retailers that truly understand the value of good customer service.

AnthonyH-88

The guy who works here is very friendly and knowledgeable, was very quick at getting my watch fixed it is now exactly how it was when I bought it. Thanks very much.

GarethM-35

The only way I know that my watch has been repaired is that it now works like it did when I purchased it excellent job keep up the good work.highly recommended. Many than Mr hobson

DarrylH-7

Fantastic service, very knowledgeable and treats high end watches with the respect they deserve. Highly recommend.

RobH-66

As ever a professional, knowledgeable, top quality experience. Guy (the owner) really knows his stuff and has helped me out with several watches over the years. I would not hesitate to recommend him to others, and will continue to use for years to come

Gav Brining

I would certainly recommend this watch repairer as they seem honest and very knowledgeable.

Ian Mackinnon

I had an expensive Armani watch that needed a new battery. Naturally, I was cautious as to who I chose to carry out the repair with such a lovely timepiece. I read good reviews about this place, so I decided to give it a go.
Definitely 5 star service with reasonable prices. I could tell that gentleman who served me had a real passion for watches, just like myself. That's precisely the sort of person I want looking after my timepiece.

Osama Madlom

I found Precise Time to be very efficient and helpful. They sorted my broken strap within a few minutes while I stood there and it didn't cost the earth! People you can definitely trust to get a job done. Thanks again!

Matthew Mears

After a failed attempt to alter a watch strap myself, I called in here and was sorted in a few minutes. This chap really can stop time, Amazing service!

Jordan O'Grady